Shakira - Try Everything (Jack Grayson Remix)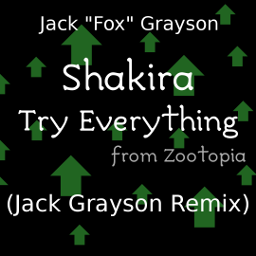 Released
I love this movie. Late to the game as usual, though.
For (semi-) obvious reasons, I'm not putting this on Pony.fm. I'm offering only a few common formats, so if you want another format that Pony.fm offers, please e-mail me, comment on SoundCloud, or whatever.
Downloads and Links

MP3 (Dropbox): High-quality MP3 (Stereo, 44.1 kHz, 320 kbps)

Ogg Vorbis (Dropbox): Free and open format, for those who are interested (Stereo, 44.1 kHz, Q7)

Lossless Version (FLAC) (Dropbox): For editing or conversion into other formats (Stereo, 44.1 kHz, 16-bit)

High-Resolution Cover: Just because (also for music-file metadata since that isn't in there) (PNG, 1080 x 1080 px)

Widescreen Art: Art for widescreen videos (PNG, 1920 x 1080 px)

SoundCloud: SoundCloud page for this release

YouTube: YouTube page for this release
Note: I had different MP3 and Ogg downloads for the first few days. The audio is the same, but those previous downloads had cover art that might not have worked on some portable players. All that I changed is the format of the cover art (from PNG to baseline JPEG, for those who are interested).
Copyright
This song and its associated cover art are available under the Simple Noncommercial License. Keep in mind that others' work may be included under fair use.
Lyrics

(Oh, oh, oh, oh, oh) [x8]

I messed up tonight, I lost another fight
I still mess up but I'll just start again
I keep falling down, I keep on hitting the ground
I always get up now to see what's next

Birds don't just fly, they fall down and get up
Nobody learns without getting it wrong

I won't give up, no, I won't give in
'Til I reach the end and then I'll start again
No, I won't leave, I wanna try everything
I wanna try even though I could fail

I won't give up, no, I won't give in
'Til I reach the end and then I'll start again
No, I won't leave, I wanna try everything
I wanna try even though I could fail

[Break]

(Oh, oh, oh, oh, oh) Try everything [x3]
(Oh, oh, oh, oh, oh)

(Oh, oh, oh, oh, oh) Try everything [x3]
(Oh, oh, oh, oh, oh)

Look how far you've come, you filled your heart with love
Baby, you've done enough, take a deep breath
Don't beat yourself up, don't need to run so fast
Sometimes we come last, but we did our best

I won't give up, no I won't give in
'Til I reach the end and then I'll start again
No, I won't leave, I wanna try everything
I wanna try even though I could fail

I won't give up, no I won't give in
'Til I reach the end and then I'll start again
No, I won't leave, I wanna try everything
I wanna try even though I could fail

[Break]

(Oh, oh, oh, oh, oh) Try everything [x3]
(Oh, oh, oh, oh, oh)

(Oh, oh, oh, oh, oh) Try everything [x3]
(Oh, oh, oh, oh, oh)

I'll keep on making those new mistakes
I'll keep on making them every day
Those new mistakes

(Oh, oh, oh, oh, oh) Try everything [x3]
(Oh, oh, oh, oh, oh)

(Oh, oh, oh, oh, oh) Try everything [x3]
(Oh, oh, oh, oh, oh)

Try everything

WIPs